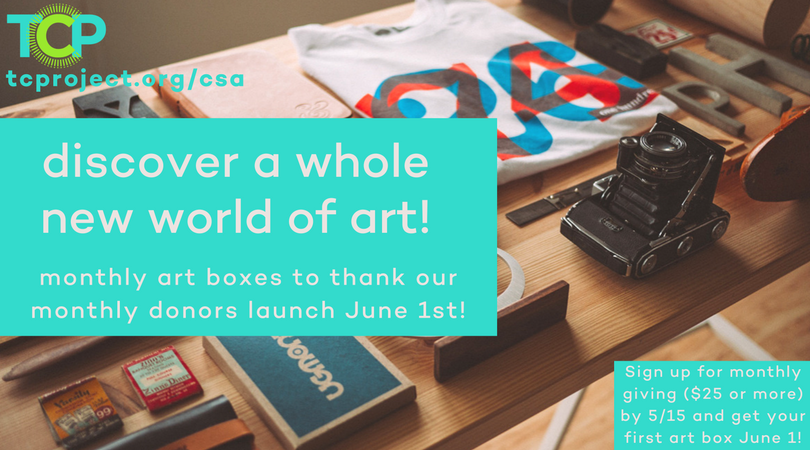 Join our CSA (Community Supported Arts) today!
To thank you for your gift of $25 or more per month, you can look forward to real, live mailbox mail every month from our growing network of talented artists. Get exclusive sneak peaks of arts in progress, exclusive swag like stickers and pins, and fun kits to cultivate your own creative side. Our first kit will launch June 1, and if you sign up by May 15th, you'll get a thank you in our first batch!
About our First CSA "Art Box" The Joy Box Kit
We have been fortunate enough this year to receive support from the Omega Women's Leadership Center to learn about "Doing Power Differently." One workshop we've been able to take was on Micro-Resilience from author, speaker, former Olympian and all-around inspiring person Bonnie St. John. One strategy for Micro-Resilience is to create a "Joy Box." So for our first CSA "art box" we'll send you everything you need to make your own little "joy box" to keep with you whenever you need a quick reminder of the things that bring you joy!
And each month you can look forward to more exciting community supported arts, right to your door! But wait, there's one more thing…
If you are so excited about this that you can't wait to tell ALL OF YOUR FRIENDS, the good news is that we want to help you! You can start your own fundraiser to recruit people to sign up for the CSA. Just go to THIS link and click "fundraise." The person that signs up the most new CSA members by May 15th gets a free personal photo shoot from our talented Beyond Creative team. Whether you want to do a family photo shoot or get head shots for your resume or website, we will come anywhere within 50 miles of our Massachusetts-based programming!